Tradespeople, employers and educators all agree that the most important emerging skill in the trades are digital skills. This was confirmed through research done by the Conference Board of Canada and Future Skills. For the details, see the report 'Bridging Generational Divides: Advancing Digital Skills in Canada's Apprenticeship and Skilled Trades Ecosystem' (September 2020).
The demand for digital skills in the trades can be seen throughout Canada and around the world. The report identified that:
"Tradespeople will need seven core digital skills: technical, information management, digital communication, virtual collaboration, creativity, critical thinking, and problem-solving in digital environments." (Bridging Generational Divides, Page 9)
Adult Training and Upgrading
Adult training and upgrading programs in Ontario, also known as Literacy and Basic Skills (LBS), have seen a growth in the demand for digital skills over the years. During the pandemic, we saw the need for digital literacy skills skyrocket as everything moved online. People needed digital skills to do everyday things such as apply for financial support, communicate with their doctor or get their kids online for school. For apprentices this meant having the skills to register online, complete training, and communicate with employers digitally.
Adult training and upgrading programs in Ontario responded to the increased need for digital literacy training by developing and offering additional online and in-person training programs, including Zoom training. We want to make sure people have the skills they need to succeed in meeting their career and educational goals, including individuals preparing to start an apprenticeship.
Pre- and Post-Apprenticeship Training Options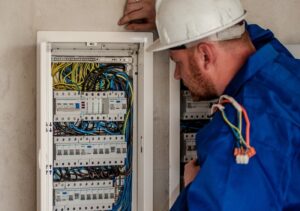 Adult training and upgrading programs support people who are thinking about entering the skilled trades, including those in pre-apprenticeship programs. Additionally, we offer help to those already registered as an apprentice but who need a bit of extra support with things such as digital literacy, math and communication skills. We are also known for being able to help people prepare for success with their Certificate of Qualification (C of Q) exams.
We can also support those currently in a trade, but who might be thinking about leaving because they don't have the core skills they need for success at the moment. With a little help, they can succeed. In this way, LBS programs can help with retention in the trades which will go a long way in improving the completion rates.
Digital Technology in the Trades: Examples
The "Bridging Generational Divides" report identifies areas where digital technology is being used in the automotive, manufacturing and food service industries, but their findings can be applied to all trades. For example, the need for computers, tablets, smartphones, apps, and handheld devices is found in all the trades to some degree.
The paper captured many examples of the growing need for digital skills in the trades, including:
installing and operating machines and equipment
using diagnostic and monitoring tools
programming
reading digital blueprints
completing quality control
digital measurement
communicating and sharing information with customers, trainers and other trades people (e.g. email, text, Microsoft Teams and Zoom)
receiving online work orders, and product and service orders from customers
placing orders for parts and supplies
invoicing.
Finally, there is a need for information management skills, including accessing forums for troubleshooting support and for finding information, manuals and training online.
In the 'Bridging Generational Divides' report you will find Table 1 'Impact of digitalization on the trades' which includes a list of 'Skills needed to adapt to future work trends'.
An EdCan Network article 'Skilled Trades in the Digital Age' provides even more examples of digital skills and tools in the trades. It includes GPS-guided excavation on construction sites and in resource extraction, accessing information on tablets, such as schematic drawings, as well as scheduling and invoicing software. It provides an example were technology can be found in equipment including heavy haulers.
They "have a tremendous number of sensors that collect data about everything from how hard the equipment is hitting bumps, to how inflated the tires are and where the bumps are located so the road can actually be fixed."
Generational Divide
The need for digital skills is an significant development in the trades. It is made even more significant because it is being embraced at different rates. The "Bridging Generational Divides" study found that apprentices may be more open to using digital technology than a journeyperson.
For example, one of the challenges going forward will be the apprentices' preference for text and email and a journeypersons' preference for in person and phone discussions.
Training
There is a need for strong foundational skills in digital literacy for those considering a career in the skilled trades; however, there is also a need to support those already in the trades. For example, LBS can help to provide training to address the intergenerational communication differences identified in the report, such as email and text communication.
In our programs, we begin by measuring the individuals' current skills so we can work with them to design a customized training program that will help them build on their current computer, communication and math skills. Some people come in for a refresher while others are looking to develop new skills. We create an individual plan that fits their needs and schedule including offering one-on-one, group or online training.
What was also clear in the report was the clear link between soft skills and digital skills. This includes communication, collaboration, creativity, critical thinking and problem solving. LBS programs have been recognized over the years for providing the opportunity to develop these soft skills which further prepares people for work in the trades.
Adult training and upgrading programs provide the base skills so that people in the trades have the foundation and confidence needed to learn the digital tools and software specific to their industry.
Recommendations
The 'Bridging Generational Divides' report concludes with a list of next steps for addressing labour and digital skills shortages. They include recommendations for employers, tradespeople, training providers, unions, and governments. To see the list of recommendations, visit page 27 of the report.
Contact Us
We recommend reaching out to any of our adult training programs located throughout Ontario to ask how we can help support the development of foundational digital literacy skills needed in all jobs, including the skilled trades.
For a list of services in the LOCS region, including Haliburton, City of Kawartha Lakes, Peterborough, Northumberland and Hastings, visit our programs page or contact Carrie Wakeford at .
To find a program in other areas of Ontario visit the Learning Networks of Ontario website for help finding a program in your region.
You can learn more about digital skills and the skilled trades in the blog post Computers and the Skilled Trades.
---