After a workplace injury, Tim Lobb started working with the folks at CLA to upgrade his skills to earn his Grade 12 diploma making it possible to follow his dream of enrolling in college—in just two years.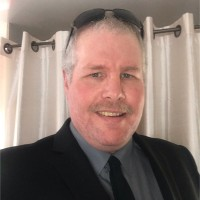 When a serious workplace injury forced Tim, to take a leave of absence from his assistant supervisor job, he began to realize that he couldn't return to the warehouse and building materials company where he had worked for 17 years.
The workload was physically demanding and involved heavy lifting. The thought of returning to work left Tim concerned about the possibility of getting reinjured.
While he was on the road to recovery, Tim received Workers' Compensation and was aware it would only cover his medical expenses and missed wages for so long. He wanted to make a career change, but was at a loss for what he could do. The 47-year-old Trenton resident was armed with years of experience and a strong work ethic, but he worried that being without a high school diploma would be a stumbling block.
Tim was uncertain about his next move until a Workplace Safety and Insurance Board caseworker, who had been assigned to his file, recommended he pay a visit to Community Learning Alternatives (CLA).
---
CLA is an adult learning centre that helps individuals between the ages of 19 and 64 reach their goals. The organization is considered a key resource for adults wanting to upgrade their essential skills to benefit them in life, career, or training and education.
---
Thanks to funding from the Ontario Ministry of Labour, Training and Skills Development and the United Way, CLA's learning and skills programs are provided for free to eligible adults in Hastings County.
CLA helps learners with skills upgrading and preparing for post-secondary studies, apprenticeships and employment. It also supports people working on secondary school credits and offers specialized programs such as computer training, financial literacy and budgeting, PSW preparation, customer service skills, and more.
Tim said he was hesitant about going back to school.
"I was worried that I wasn't school material and that I wouldn't be able to do it. I assumed that there was no way I could get my Grade 12."
Eventually, Tim cast aside his doubts and fears and finally met with a CLA instructor who worked with him to develop a learning plan. He enrolled in a three-month Literacy program to improve his reading, writing and math skills so he could pursue his high school diploma.
During the course of the program, both Tim and his instructor noticed how well he excelled at math, particularly in algebra and trigonometry. It would be a positive indication of things to come for Tim.
The program allowed him to progress independently and on his schedule. The smaller classroom size was an added bonus, said Tim, allowing him to receive more individualized attention and interact more with the instructor.
"It was less distracting and intimidating, and I didn't feel worried about what the other students would think of me when I asked questions."
In addition to support from his family and friends, Tim said his CLA instructor and instructors were an important source of support during his educational journey.
"The way the instructors teach the classes is engaging and interesting. They have a unique way of seeing what you're interested in and they just roll with it to make sure you succeed.

CLA stuck by me every step of the way. Unlike any other centre I've been to, they treated me with respect and made me feel good about myself. I've had self-esteem issues in the past and CLA helped me overcome that. They pushed me forward and helped me believe that I can do anything."
Tim encourages anyone interested in advancing their education or skills to explore CLA as an option. Even with a busy schedule, it's possible to find the time.
"Don't hesitate. It's up to you to take that first step to check it out," he says. "You will not regret your choice."
Reflecting on how far he's come, Tim says if he hadn't attended CLA, he believes he wouldn't have had the faith to work towards his high school diploma.
In the aftermath of that incredible day – and as he moves forward to his next step in his journey – Tim has discovered that:
"Everyone's path is different. The important thing is to "keep your end goal in sight."
Two years since his workplace injury, Tim now has his sights set on finishing his Business Administration Diploma at Academy of Learning College in Belleville, where he is currently enrolled.
---
Community Learning Alternatives is located in Belleville, Madoc and Trenton. Discover your strengths and improve your skills by working with the team at learnwithcla.ca.
---